The 2007 Emmys Ceremony
Sadly, this will not be my traditional minute-by-minute recap. But I did take notes while watching the Emmys tonight, and I would like to share them with you now, at great length, losing my thread several times, until the orchestra drowns me out and we cut to commercial.
--The
Family Guy
opening number was funny enough, I thought, but cutting to (and zooming dramatically in on) T.R. Knight immediately after the Isaiah Washington/Kramer in blackface joke seemed like poorer taste on the part of the ceremony's director than the people behind the cartoon. Really, director? Did you expect him to smile and be mirthful at that moment? Way to start things out on an incredibly uncomfortable note.
--Speaking of uncomfortable, this is directly from my notes:
SEACREST + THEATER IN THE ROUND = DEATH
I'd still pick him over Whoopi any day, but then, I'd pick Ebola over Whoopi.
--Seacrest spends several full minutes explaining where people are sitting in the audience. Yes, we understand that the cast of
Ugly Betty
is all sitting together! Move along!!
--Again from my notes:
WAS RAY ROMANO CENSORED???
Yes, yes he was. As were several others throughout the night. I couldn't even tell what he said, since instead of muting the volume, as censors normally do for these kinds of broadcasts, they actually cut to a neutral camera in the ceiling, behind a decorative mirror ball, from which the stage couldn't even be seen. Overkill!
Yahoo reports
that Romano joked about "his former
Everybody Loves Raymond
wife, Patricia Heaton, sleeping with her new
Back to You
co-star Kelsey Grammer. But he used a stronger word than 'sleeping'." Wha?? Now, I don't know for sure, but I'm guessing a TV vet like Romano knows better than to say "fucking" during a live (tape-delayed to the West Coast) telecast. I'm guessing he actually said something far more innocuous, like "screwing." And for Fox, of all networks, to panic at
that
... well, just another sign of the huge backwards steps we've been making during this new Puritanical era.
--The first Emmy of the night, for Best Supporting Actor in a Comedy, goes to Jeremy Piven. So, contrary to
my predictions
, he does indeed repeat. Things going contrary to my predictions would become a running theme of the night, to go along with the censorship.
--Another surprise in the Supporting Actor, Drama category: Terry O'Quinn wins for
Lost
, rather than Michael Imperioli for
The Sopranos
.
The Sopranos
weren't nearly the juggernaut I predicted they'd be. Oh well, it's not like O'Quinn was a bad choice. Not at all. Very cool, and good for him.
--Again from my notes:
SEACREST MAKES MY HATE RISE WITH EVERY WORD
--Another note, a moment later:
TINA FEY + JULIA LOUIS-DREYFUS = SO HOT, SO FUNNY
I stand by that. Key quote: "Both of us have Emmys, and children, which we love equally."
--Jaime Pressly wins Supporting Actress, Comedy for
My Name Is Earl
. In my predictions, I said she had a solid chance. Too bad I didn't commit and pick her for the win. I'm an early 0-for-3.
--The ceremony's announcer introduces Katherine Heigl as "Katherine Hi-jull." I actually thought for a second: wow, I've been saying it wrong for so long. But then Heigl corrected the pronunciation onstage (it's a hard G: Hi-gull). Whew!
--Supporting Actor in a Miniseries or Movie goes to Thomas Haden Church for
Broken Trail
. I was
not
wrong about the
Broken Trail
juggernaut. My first correct prediction!
--Supporting Actress, Drama goes to Katherine Heigl! So much for my
Grey's Anatomy
shutout prediction. She also gets censored! According to Yahoo, she "mouthed an expletive after winning." Just
mouthed
? Just the vision of her lips forming the word "shit" or "fuck" is enough now to destroy America? Guess you better stop showing Tiger Woods playing golf, 'cause that sumbitch curses
all the time
. Tiger Woods is destroying America!!
--Heigl says during her speech, "Even my mother told me I didn't have a shot in hell!" Gee, I wonder if some later award winner will pick up on that?
--Immediately afterward,
Late Night with Conan O'Brien
wins Best Writing for a Variety, Music Or Comedy Program, and the head writer says, "I do have to thank Katherine Heigl's mother, who said we would win." Boy, that didn't take long at all!
--Best Directing For A Variety, Music Or Comedy Program goes to
Tony Bennett: An American Classic
. I think that's my second correct pick.
--Lead Actor in a Miniseries or Movie goes to Robert Duvall for
Broken Trail
. And apparently Robert Duvall has hit the point where he doesn't give a
shit
about what's going on outside his head, or even what the words coming out of his mouth are. He rambles, and rambles, and rambles some more. Seacrest has to tackle him and physically drag him from the stage. (Not really, but it's close.)
--The cast of
Roots
is honored in a touching fashion, on the 30th anniversary of the broadcast of that landmark miniseries. They then present the Best Miniseries award to
Broken Trail
, and Robert Duvall starts rambling
AGAIN!!
Holy crap, old man! Go bore your grandchildren instead!
--Best Director, Drama goes to
The Sopranos
. That brings me back up to a respectable .500 average for my predictions, 5-for-10 so far.
--Best Writing, Drama, also goes to
The Sopranos
. I talked myself out of picking them for this category because they had three nominations in it. I should've stuck with it; I should've known the last episode of the series would get a nod. However, I clearly should've picked against them in every acting category; they didn't win a damn thing there.
--Best Variety, Music or Comedy Series goes to
The Daily Show
again. I jumped the gun on
The Colbert Report
. This was not its year, not quite yet. It won nothing, sadly. Well, I said it had a 50-50 chance of winning everything or getting shut out! I just picked the wrong 50.
--Best Variety, Music Or Comedy Special goes to
Tony Bennett: An American Classic
again. Tony Bennett is a juggernaut.
--Supporting Actress, Miniseries or Movie goes to Judy Davis. Hey, I said she was always a strong pick. I just didn't expect her to win for crap like
The Starter Wife
. My mistake.
--Best Made for Television Movie is
Bury My Heart at Wounded Knee
. Brad Garrett would later make a joke that he and his co-star/co-presenter Joely Fisher were going to make a movie called "Bury My Head Between Your Knees." And
that
doesn't get censored? Now, don't think I'm coming down on the side of the censors. I don't find the words especially offensive -- just the image now stuck in my head. God damn you, Brad Garrett!!
--Lead Actress in a Miniseries or Movie goes to Helen Mirren for
Prime Suspect
. She says she's going to keep talking until the music cuts her off, and then, when it doesn't, she actually says, "Come on, music! I'm going on and on!" Awesomely refreshing. She should have a chat with Robert Duvall. After dropping off for a bit, I'm back at .500, 8-for-16. (I think. I'm not paying very close attention.)
--Here's a strange moment: Lewis Black does a two-minute comedy bit, but then leaves without actually presenting an award. That never happens! Even the Jersey Boys song and dance number earlier in the show seems normal compared to that.
--Best Directing
and
Best Writing For A Miniseries, Movie Or A Dramatic Special go to
Prime Suspect
. That surprises the heck out of me. So much for
Broken Trail
. Still, it spares us from more Duvall, so huzzah!
--There's some nonsense with Al Gore and some internet TV channel at about this point that I choose to ignore.
--Best Individual Performance In A Variety Or Music Program goes to Tony Bennett. Too bad, Stephen Colbert! Bennett comes out and does his best Robert Duvall; he begins by thanking
Target
, his show's sponsor. Aye-yi-yi.
--Elaine Stritch (winner of an Emmy for her guest appearance on
30 Rock
), while engaging in banter before presenting an award, loses her place. She snaps, "I'm not faking this -- I really don't know what the hell I'm doing!" I kind of love her for that.
--Best Directing, Comedy goes to...
Ugly Betty
? Really? I did not see that coming. I don't think it's outrageously wrong or anything, just surprising. In fact, so far, the Emmys have been gentle on my heart condition -- there haven't been
any
awards where I've really been angered or devastated. Anywho, I'm stuck at eight correct picks, 8-for-20 now.
--Best Writing, Comedy goes to the "Gay Witch Hunt" episode of
The Office
. Hey, I called it! Although, watching the clips, I think I'd have gone with one of the
30 Rock
s if I'd been voting. Poor
30 Rock
, it's just not going to win anything tonight, is it? <--Ironic foreshadowing
--Wayne Brady, Kanye West, and Rainn Wilson do a ridiculous
Don't Forget the Lyrics
skit, wherein Kanye loses to Rainn because he gets his own lyrics wrong. Instead of "ya," he sings "you." Dumb as it is, it's worth it just for Brady's line: "You picked a bad time to speak properly."
--Best Reality Competition goes to
The Amazing Race
for the fifth year in a row. It has now won literally
every single year
the award has existed. If I were you,
Dancing With the Stars
, I would just stay the fuck home next year.
--Stephen Colbert and Jon Stewart do a decently funny extended comedy routine about the "green" Emmys, then give Best Lead Actor in a Comedy to...
Ricky Gervais
?? WOW. I'm sorry, but that has to be considered a
huge
upset, over Alec Baldwin and Steve Carell. It's pretty awesome, but it's shocking. But the real awesomeness occurs when it becomes clear Gervais is not present to accept the award. Stewart says, "Ricky Gervais could not be here tonight. Instead we're going to give this to our friend, Steve Carell." And Carell, instantly committing to the joke,
races
to the stage, and the three of them jump and frolic and scream with delight. I couldn't stop laughing for
ages
. That's one of the best awards moments
ever
. Seriously, find it on YouTube as soon as it gets posted. SO GREAT.
--Lead Actress, Drama goes to Sally Field. And
she gets censored, too!
At least this time, I could tell why: she said something along the lines of, "If mothers ran the world, there wouldn't be this god-da[CENSORED]." I'm going to take a wild guess and say she was speaking out against the war. It's a shame that such a namby-pamby curse as "god-damned" got her anti-war sentiments dumped -- but then, it
was
being broadcast on a Rupert "Fox News" Murdoch channel, after all; maybe it was the anti-war sentiments and not the curse that got her cut. Conspiracy!
--And now we come to the Who Croaked This Year? salute. Applaud for your favorite dead entertainer! The applause is muted throughout, but a few people trigger solid responses. Calvert DeForest, aka Larry "Bud" Melman, gets the first significant ovation, over industry vets such as Joseph Barbera, Yvonne DeCarlo, and Sidney Sheldon. Wow. Steve Irwin also gets some recognition, as does Joel Siegel, and it gets even louder for Peter Boyle. Charles Nelson Reilly gets some decent applause, which is nice, as do Jack Palance, Tom Poston, Ed Bradley, and Luciano Pavarotti. And finally, we have -- Merv Griffin. MERV GRIFFIN!
MERV GRIFFIN!!!
Merv Griffin is the most popular dead entertainer at the 2007 Emmys!
--And, as always, while going to commercial afterward, rather than hearing the announcer tell us which celebrities will be appearing next, we simply fade to black. Because we're so somber and mournful.
--We're in the home stretch! America Ferrera wins for Best Actress, Comedy. So that's two for
Ugly Betty
I was not anticipating. I've got nothing against this win; I like her, and I like her show. Ah, how nice it is, to have an Emmys ceremony where nothing enrages me. <--Ironic foreshadowing
--And now we have Best Actor, Drama. This one is such a slamdunk, I'm already writing the name in my notes before they announce it. James Gandolfini, of course! How could he
not
win? How could he be denied this crowning acknowledgement of his brilliance as Tony Soprano? So I write James... and then something goes terribly, terribly wrong. Here, look at my notes: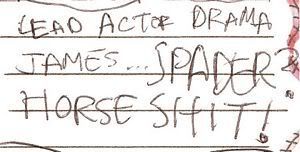 Horseshit, indeed. I thought the fact that William Shatner failed to win his third Emmy earlier was a sign that the Television Academy was beginning to recognize the rot at the core of
Boston Legal
. But it turns out: not so, not so. Inexplicably, the Academy still wants to honor the ridiculous, hammy performances in what has become a trainwreck of a show. Dumbest mistake of the night.
--Followed by the sharpest, most insightful, decision: Best Comedy goes to
30 Rock
! Amazing. I'd thought after Alec Baldwin lost Best Actor, it didn't have a shot. But they pulled out a miraculous, and possibly series-saving, win (as Tina Fey quips in her speech, she would like to thank "our dozens and dozens of viewers"). What fantastic recognition for what may very well have been the best comedy of last year (the second half of its season, I have to say, edged out
The Office
in overall quality). Then again,
Arrested Development
also won Best Comedy against all odds, and look what happened to it.
--Best Drama goes to
The Sopranos
, and how could it not?
And it's over. Ryan Seacrest stayed out of sight enough that I didn't have to hurl a beer bottle through the TV screen, and only one really painfully stupid upset occurred, so overall, this was not the disaster it could've been.
By the way, if my count is correct, my predictions went a miserable 11-for-28. I used to be so good at this! I can't even say I need to cut out the minor categories, since I picked up a lot of points there, and did so poorly in the majors.
Sorry I couldn't entertain you with constant liveblogging updates, but I hope this suffices instead. Good night!