Austin and eBay
Here is a very important reason why I love Austin so much: tonight at the Alamo Drafthouse,
a FREE midnight showing of the infamous horror classic, Silent Night, Deadly Night
.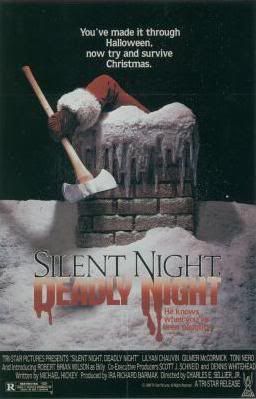 Includes free "Blood Nog" for all patrons! I'm
so
there. I remember this twisted flick warping my fragile little mind way back in high school. Can't wait to see it again!
And stuff like this goes on
several times a week
at the various Drafthouse theaters, which is precisely why it's the greatest theater chain in the world.
---
Meanwhile: two more eBay listings.
BLACK ORCHID MINISERIES SIGNED BY NEIL GAIMAN AND DAVE MCKEAN
GRANT MORRISON'S COMPLETE RUN ON ANIMAL MAN, INCLUDING FIRST ISSUE SIGNED BY MORRISON
My last two eBay listings aren't attracting much bidding yet. Maybe this is just a bad time of year for auctions. (In fact, I just realized these two new auctions will end on Christmas! I think I'm going to change that. Hmmm... looks like I can't extend the auction. Oops.)
On the other hand, maybe people just don't want those comics. Well, there's still almost two days to go on them, we'll see.