Austin -- Part 2
Belatedly, here's the second part of my Austin vacation story. I'll try to skip to the highlights.
The Fourth of July was supposed to be the day we were going to inner tube down the river -- the river whose name I
still
don't know, despite seeing it and talking about it every day I was in Austin -- and actually being
in
it once. Quick research reveals it is the Colorado River. Wow, really? Somebody must've mentioned that while I was there, but I forgot. I'm not good with names -- even the names of rivers, apparently.
Like I said, we were
supposed
to go inner tubing, but all that rain I told you about in
Part 1
had flooded the river beyond the point of safety. So instead, Memphis Brian came over and he, Forrest and I grabbed some breakfast at a neat little place called the
Magnolia Cafe
, which is open 24 hours a day. Highlight: the waitress who reminded us of the Bride of Frankenstein, but was still strangely attractive.
Then we went over to Memphis' apartment, and drank, and invited several other Mellow Mushroom employees over, and drank, and played some Guitar Hero 2, which was freakin' awesome, and drank, and then played a mini-poker tournament, which I won, because
I
am freakin' awesome, and drank a little bit more. Six of us went through a case and a half of Lone Star, plus several shots of varying degrees of intricacy. Well, how the hell
else
are you supposed to celebrate our nation's independence?
Oh, yeah: by blowing shit up. Which we proceeded to do once we got back to Forrest's place again. Rusty and Kendra -- with whom Forrest lives -- had driven that week from California to Texas, and bought a giant box of highly dangerous fireworks while passing through New Mexico. Bless their hearts. So we set 'em off in the street right out in front of the house. Why not -- everybody else on the block was doing the same thing. I took some pictures: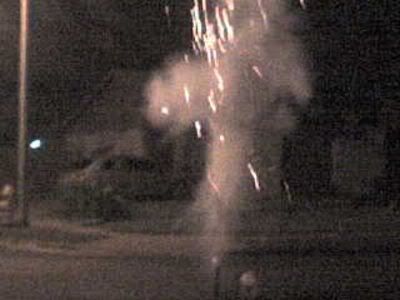 The last picture is of some nearby kids Forrest almost killed by accidentally setting one of the explosive devices on its side. It was a little box that shot out eight Roman candle-type fireballs; luckily, the first shot missed the kids, and the recoil was strong enough to knock the box right-side up, so the rest of the shots went into the air, like they were supposed to. Actual pre-explosion conversation:
Me: You put that on its side.
Forrest: No I didn't!
Fireworks: BOOM!!
Kids: AAAAAHHH!!!
Forrest: Oh, maybe I did.
Bad Forrest!
Among the other highlights, thrown out at random:
--
Trudy's Tex-Mex Restaurant and Bar
, a damn fine establishment whose specialty is the "Mexican Martini." It's a tequila margarita variation, served in a martini glass. Best of all: they give you the martini
shaker
, too. It's a
lot
of alcohol. There are three locations: the North Star, the South Star, and the one we went to, the original, Trudy's Texas Star.
--The
Hole in the Wall
, a terrific dive bar a block up from the Mellow Mushroom. We went there a couple times, and played darts (I won), flirted with the hot, tattooed, pierced, rainbow-haired women bartenders (I lost), drank much Jack Daniels, and generally had a blast and made a genial nuisance of ourselves, if a nuisance can be said to be genial.
--
Funny Papers
, a comic book store located near the Mellow Mushroom. I thought it was very nice -- clean, well-stocked, with knowledgeable employees. I was disappointed, though, that I never got a chance to check out
Austin Books & Comics
, which has a reputation as not only the best comic shop in Austin, but one of the very best in the entire country.
Patton Oswalt calls it
the best comic shop he's visited while on tour, which is good enough for me!
--We finally did get to the river on Friday, the 6th, but we didn't go inner tubing. There was still a lot of flooding. We couldn't even get into Barton Springs, our first choice, which is apparently one of the biggest tourist attractions in all of Austin. It was closed due to the flooding. So we went to nearby Campbell's Hole instead, and it was fantastic. Flat rock shores with many convenient chair-height outcroppings, lots of friendly folks with friendly dogs, lots of lovely young women in bikinis, and refreshingly cool (but not cold) water flowing over rapids through which you could float on your back.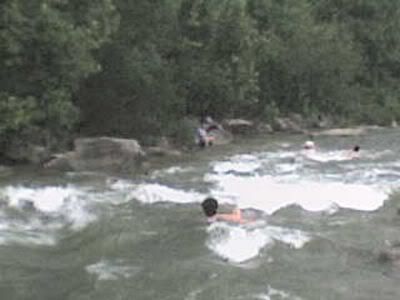 --After the river, we went to
Rudy's Bar-B-Q
, which was some of the most incredible barbecue (forgive my unusual spelling) I've ever eaten, in large part due to their world-famous "sause," and their incredibly friendly and helpful staff. And it's in a gas station! No foolin'. Rudy's was a gas station chain first. A few years ago, they decided to add attached barbecue joints to the gas stations, and the rest is history. Delicious, delicious history.
--I couldn't leave Austin without visiting the
Alamo Drafthouse
-- according to Entertainment Weekly, the best theater in America. Theater
chain
, really; there are over half a dozen. I believe we went to the one on South Lamar (don't hold me to that). It's basically a brew & view -- but the coolest brew & view
ever
. (For those who are unfortunate enough to be unfamiliar with the term, a brew & view is a movie theater that serves food and alcohol right there in the theater, during the movie. It's
awesome
.) The Drafthouse is famous for their specialty programs, such as Weird Wednesday (mostly
MST3K
-quality films), Terror Thursday, and Master Pancake Theater (breakfast and a "classic" film, such as
Conan the Barbarian
); they also have an annual Quentin Tarantino film fest, and Quentin Tarantino himself hosts an (almost) annual film festival of his own choosing (mostly grindhouse fare, naturally).
The film we saw at the Drafthouse was
Transformers
. The overall experience was so enjoyable, I could mostly overlook how awful the film was --
that's
how cool the Drafthouse is. Check out the T-shirt I picked up for myself:
And the one Forrest bought for me to give to our friend Richie in Ojai:
I can tell you now, when I move to Austin, the Drafthouse
will
become a weekly tradition. Even if I'm the only one who goes.
--
Threadgill's
, for some homestyle cooking and a show: we saw Austin band
the Gourds
, giving a CD release concert. Damn fine music, which could probably be described as alt-country; I'd only heard of them before because of their amazing cover of Snoop Dogg's "Gin and Juice" (which, sadly, they did not perform that night), but they rocked the joint quite handily. You will have to take my word that this is a picture of them onstage: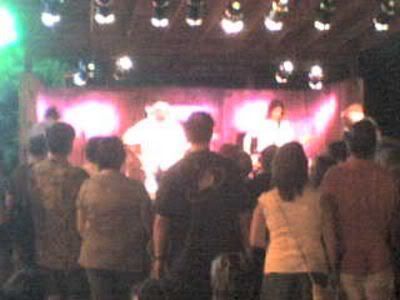 --
Güero's Taco Bar
, a very cool Mexican restaurant, and another location featured in Tarantino's
Death Proof
.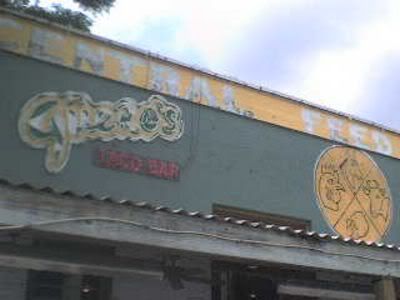 I had the queso flameado, which is basically a big bowl of greasy, melted cheese with chunks of steak in it. It was
delicious
, and gave me seven heart attacks.
---
I'm sure I'm leaving out several other highlights. We packed a
ton
of activity into one little week! But that should give you a taste of Austin, and why I loved it so much. Thanks for the tour, Forrest. I'll be back soon!