"I hammer war"
Hey, I know that guy! In issue #1 of the comic
Fall of Cthulu: Godwar
from Boom! Studios, fresh on the stands this week, there is a brief interview with
pal Ian
about his new position as an editor for the company -- complete with photo! Very cool, Ian. Congrats once again! Guess they haven't discovered you can't read yet. (Oops!)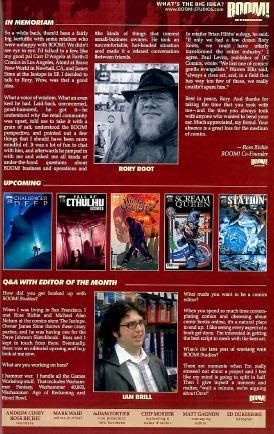 Here's a scan of the full page. I'm sure Ian was very pleased to have been included on the same page as a tribute to the late comics retailer Rory Root, whom
Ian
(
and I
) regarded with great esteem.
Here's Ian's bit on its own. Click to biggie size so you can read the interview, and admire what a dashing young devil Mr. Brill is.
And click here if you'd like to read the tribute to Rory at full size.