Corner Gas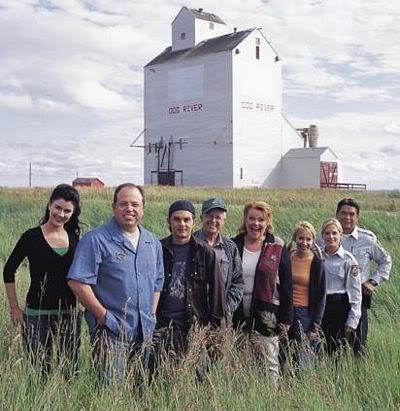 Of all the new shows to debut this Fall, by far my favorite is one now entering its fifth season. In Canada, that is; in America, it's brand new. It's the comedy
Corner Gas
, which is now airing in reruns on
Superstation WGN
(check the link for days and times).
Corner Gas
is set in the sleepy, middle-of-nowhere burg of Dog River, Saskatchewan (those of you educated in American schools: that's in Canada). Brent Leroy (played by Brent Butt, the show's creator) is proprietor of the gas station/mini-mart from which the show gets its name. He's a schemer, but his schemes are always for very small stakes, and he's always foiled. And he's usually got a comic book in hand, which I get a kick out of. Hank, who's a bit gullible and slow on the uptake, is the local handyman of sorts, but he spends most of his time just hanging out with Brent at the gas station. In this clip, Brent and Hank have fun with a driver passing through town. It's the first scene from the first episode, and immediately sets the tone for the series: low-key, amiable, lots of back-and-forth jesting, and very funny.

"What do you mean? Like, topographically?"
Wanda is Brent's only employee. She's sharp-tongued and deeply sarcastic, indifferent and inattentive to her work, and she generally gets the best of Brent and Hank. Here's a scene that typifies the relationship between all three, and the work habits at the station.

"The werewolf is nature's robot"
Lacey is the new gal in town. She's moved from the big city of Toronto to run The Ruby, a coffee shop next to Corner Gas. She's frequently confounded by the stubborn adherence of the locals to things she considers unimportant -- for example, she creates an uproar when she wants to fill in the town's only pothole. She's played by the lovely Gabrielle Miller, and she's bound to be a future
OoMA
.
Davis and Karen are Dog River's police force. Davis is the senior officer, quick to point out mistakes or slips in protocol, but extremely sensitive when rookie Karen reveals his own failures. And Oscar and Emma are Brent's parents. Oscar, who owned Corner Gas before retiring, is prickly, easily confused by newness, and likes calling everyone "jackass." (I can relate to that.) Emma mildly tolerates most of Oscar's tantrums, but she knows how to manipulate him, and everyone in town, to her advantage.
In this sequence, the town tries to decide how best to attract tourists. Much to Brent's chagrin, they decide to build the world's biggest... well, you'll see.

"World's Biggest..."
I
love
this show. I love the often subtle, usually deadpan humor. I love the way the characters play off one another, and have conversations like real people. I love the way the show perfectly captures the feel of a small town. At times, it's a bit reminiscent of
Northern Exposure
, but without such extremes in weirdness or quirkiness. At times, it could be Hazzard County, minus all the car chases. In fact, here's a clip that pokes fun at
The Dukes of Hazzard
and narrator Waylon Jennings:

"A bit of a pickle"
Corner Gas
is
immensely
popular in Canada. (Two sitting prime ministers have appeared on the show! That's like Dubya making a cameo on
Two and a Half Men
.) I hope the show catches on even half as well here in the States. It's not often I become as big a fan of a series as quickly as I have with this one. It might take an episode or two for the characters and humor, so much more laidback and grounded than most American sitcoms, to catch on with you -- but they eventually will. This is great entertainment.