Neil Flynn, Officer of the Law
A tribute to Neil Flynn.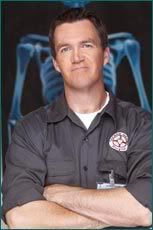 He's gained a certain level of success and recognition these days as the Janitor on
Scrubs
. But it took him a long time to get to this point. A long time, and a lot of small roles... a lot of small, suspiciously
similar
roles. Here is a partial list of this long-suffering but law-abiding actor's credits, a list I like to call...
Neil Flynn: To Serve And To Protect.
Kung Fu: The Next Generation
-- LAPD Officer
Sable
-- Real Security Guard
Doogie Howser, M.D.
-- Policeman #1
The Fugitive
-- Transit Cop
Baby's Day Out
-- Cop #1
To Sir, with Love II
-- Detective Dennis
Chain Reaction
-- State Trooper Nemitz
Seinfeld
-- Cop #1
Early Edition
-- Cop at Newsstand
Home Alone 3
-- Police Officer #1
Sliders
-- Officer Phil
Then Came You
-- Cop
CSI: Crime Scene Investigation
-- Officer Yarnell
Brainwarp
-- Detective Jim Fist
...and, of course, what must be his finest moment in fake law enforcement:
Anchorman: The Legend of Ron Burgundy
-- Police Officer (uncredited)
He doesn't even have to be
credited
to play a cop! He'll just show up on set, in uniform, and try to jump in front of the camera!
You'll have noted, of course, that if a script called for multiple law enforcement officials, Neil Flynn always played said law enforcement official
#1
. Never #2, or, god forbid, #3. That's taking
pride
in your work, people.
Here's to Neil Flynn: the most dedicated fake cop in the business.