SAN FRANCISCO: A Series of Reviews, Part 3
Part 1.
Part 2.
THE REVIEWS
Saturday, March 31.
BIA'S
After visiting an internet cafe to check up on email and directions to a few other places we'd be going that night (Matt's computer still "didn't feel like working"), Matt and I met Ian for brunch on Haight St. Once again, I am not "completely convinced" that Bia's is actually the place we went, but from the Yelp reviews, referencing "organic food", "outdoor patio", "small portions", and "poor service", this must be the place. I didn't take the poor service as badly as some of the Yelp reviewers, because our waitress actually told us it was her first day, and I've been in that position before, and she seemed "well-intentioned", so I was sympathetic. The food was overpriced, and my mushroom & cheese scramble was tiny, if "fairly tasty". At least the mimosa was perfect. Yep, a mimosa. We were establishing the theme of the day: alcohol, "early and often".
AMOEBA
I hadn't checked out the DVD section while I was there on Thursday, so off to Amoeba for us after brunch. The DVD section is nearly as "unbelievably well-stocked" as the music section, with plenty of "obscure titles from cult directors", as well as more mainstream offerings. I could've spent a few thousand dollars in there (if I had it to spend). Instead, I limited myself to three picks: the Criterion edition of
Kicking and Screaming
(not the recent Will Ferrell movie, but the 1995 debut film from
The Squid and the Whale
writer/director Noah Baumbach, the greatness of which I've been "pestering anyone who would listen" about for the past ten years), the original issue of
Re-Animator
(a new edition was just released, with only one additional special feature, so I went with the older, cheaper one), and a random, inexpensive disc from horror pioneer Herschell Gordon Lewis,
The Gore Gore Girls
, featuring Henny Youngman (!!!). While we were there, there was a live show going on in-store:
Brett Dennen
was performing. I didn't know who that was, and I wasn't much impressed. 'Nuff said.
KICKING AND SCREAMINGRE-ANIMATORTHE GORE GORE GIRLS
Reviews "pending".
TORONADO
We walked (more walking!) with our movies (Ian bought
Star Trek II: The Wrath of Khan
and... something else, I'll have to ask) down to this legendary bar on Lower Haight. It's semi-divey, with stickers and license plates and other "random crap" all over the walls, like a T.G.I. Friday's with the occasional "scary missing-toothed drunk", but with nice tables throughout and booths in back. The real appeal, though, is that at all times, Toronado has over
forty beers
on tap, and they're all
excellent
. Here's the
current list
. And they've got a generous Happy Hour as well. I had two beers: both of the Russian River Brewing Co. selections, which were the Blind Pig IPA and Pliny the Elder -- both "strong and tasty". Matt had a Wyder's Raspberry Cider, which was "incredibly delicious" as well. And Ian took advantage of the proximity of the
Rosamunde Sausage Grill
; located right next door to Toronado, you can order your Polish or chicken apple or smoked duck sausage, or "whatever", then bring it right into Toronado to eat it with a beer. I wasn't hungry enough to indulge as well, but Matt and I planned to go back again for lunch some other day (sadly, we never did).
MAD DOG IN THE FOG
Like Toronado, I'd been to Mad Dog in the Fog before, when I used to live in the Bay Area. I guess I didn't remember Mad Dog as well as Toronado, because it was much larger and nicer than I'd recalled. We ordered pints and watched some of the NCAA tournament. It was "very pleasant". Apparently, they have trivia contests there some nights. Wish I had known about that in advance.
THEN THERE WAS A TRANSITION PERIOD
We dropped off Ian, because he had to work early in the morning, then Matt and I got a bit more dressed up for the evening drinking ahead of us. I wore a tie, even. Oh,
yeah
. Sure, it was a Disney tie, but it was "very subtle". You had to look closely at the paisley pattern to notice the "disembodied heads" of Mickey, Donald, Goofy, and Pluto. I think we got some food at some point, but I could be wrong.
STARLIGHT ROOM
At long last, Kate enters the narrative. Matt and I stopped by her apartment to pick her up. She was understanding about the pile of junk in the backseat of my car, so right away I liked her. We headed off to the Starlight Room, at the top of the Sir Francis Drake Hotel in Union Square. Tied with the Parkway Speakeasy Theater, this was "the most fun I had all weekend". First of all, this is officially "Harry Denton's Starlight Room". Who's Harry Denton? This dude:
If you can't have fun in a place run by
that
guy, you ain't tryin'. Sadly, we didn't actually encounter the man himself, but there
were
a number of people who kind of looked like him. I can understand why many of the reviews on
Yelp
aren't overwhelmingly positive. The place "skews old". I'm 36, and I was still probably "a good decade" under the average age in the place (especially considering there was a surprise 60th-birthday party being thrown for someone at the time). It's got a "retro Rat Pack lounge-era" feel to it, which means "decidedly unhip by current standards in most every way". I can't speak to the cost or quality of the food, but the drinks were a "tad pricey" (though delicious). So I understand the reviews... but I heartily disagree. I loved the vibe. I loved the decor. And most of all, I loved the view. We timed it so we got there about a half hour before sunset, and looking out over the City, sipping our ridiculous cocktails ("Blackberry Brambles" all around!), with clear, gorgeous views in every direction, watching the colors and the shadows as night descended on San Francisco -- it was miraculous. I just enjoyed every bit of it, and was glad I had an old friend and a new one to share it with. I'm just sorry Ian wasn't there, too.
THE WESTIN ST. FRANCIS
I always confuse the Sir Francis Drake and the St. Francis. They're catercorner to each other off Union Square. Hint: the St. Francis is the one with the glass elevators. Tom's "cheapskate guide" to the best view in the City: go to the St. Francis, and ride the glass elevators to the top. Cost: free. Which is exactly what Matt, Kate and I did next. It's higher than the Starlight Room, which means a farther view, and it's more exciting, what with the moving. It can be "very romantic" if you're with someone you're interested in; it can be "dopey fun" if you're with "dopey friends", and you race each other back to the ground floor in separate cars. I've done both before.
GOLD DUST LOUNGE
Again, I'm "a little hazy" on whether this is where we next went or not. I think it was. Wherever it was, it had $2.95 Irish coffees advertised on a blackboard out front, which sounded "damn good" to us. We encountered an "odd older fella" at the door, who struck us kind of like a Wal-Mart greeter, only creepier. Later, he went up and joined the country band onstage, so -- I don't know what was going on there. We sat at the gorgeous, curved, and crowded antique bar and ordered our Irish coffees. They "contained alcohol", so I thought they were "pretty good". That was my standard at that point. The rest of the bar struck me as "touristy and slightly unsavory". Oh, also, if I recall correctly, this is where I showed Kate a picture of my "pride and joy":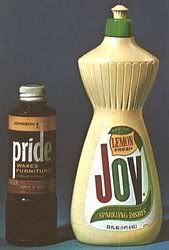 I have had that picture in my wallet since
high school
(seriously), and it
still
cracks me up. EVERY. SINGLE. TIME. I will
never
get tired of it. (Matt can testify to this; he's probably seen it a dozen times, minimum.) I guarantee you: if you meet me, and I have had at least one drink, I will show you this picture. Sometimes I'll even show it when I'm sober, which is "even sadder".
FOLEY'S
Full name: Johnny Foley's Irish House. This is a "wonderful and authentic" Irish pub & restaurant, to which I've been a few times before. Great Irish and not-quite-so-Irish (I believe Kate had the "calamari") pub food to go with your Guinness (of
course
you're going to have a Guinness here -- what are you, a Communist?). And the clock outside displays a motto all should live by: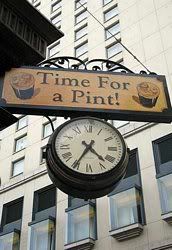 We ordered three or four appetizers, just to "fill our gullets" with something other than "Jesus juice", and I recall one of them (aside from the calamari) was pork ribs (so tender the meat was "falling off the bone"), but other than that, I'm a little fuzzy.
Everything
was getting a little fuzzy at that point, which had been the plan, so I was pleased.
TUNNEL TOP
An "elevated dive bar", by which I mean, coming from Union Square, you have to climb a flight of stairs from a lower street to, yes, the top of a tunnel to get to it. It was "gloriously dark and sleazy", but with a "youngish, attractive crowd", rather than "sad, toothless barflies". There was a film being projected onto the wall -- some kind of industrial training film from the '50s, it appeared. Yeah, it's "
that
kind of place". It's here that Matt, Kate and I proceeded, not to put too fine a point on it, to "get flat-out stinko". We settled in at the end of the bar, and Kate and I drank Jack & Cokes and Matt had gin & tonics, and we all had a lot of 'em, and it was "damn fine". We randomly ran into a co-worker of Matt and Kate's there, a guy named "Ty" (I assume that's how it's spelled), which was "kind of weird, but cool" (leaning more toward cool, despite the awkwardness of trying to interact with someone new when I'm drunk, because he bought us a round of shots).
MURIO'S
We made our way back to Haight-Ashbury at this point, and I feared the evening was soon to end, so I suggested another drink. It speaks to the inebriation of Matt and Kate that they agreed. Alcohol wins again! We wound up at Murio's Trophy Room, a dive on Haight to which I've been many a time before. I like the ceiling. Let me explain: the ceiling is covered, absolutely
covered
by caricature portraits of various patrons of the bar, all of which, I think, are drawn by a fella named "Ant", whom I met there once. His hair is gelled into two points sticking out from the front of his head, like an insect's antennae. Hence, "Ant". I'm a little blurry on events happening from hereon. (Shocking!) I believe I had a Pabst Blue Ribbon. I believe Kate ordered it for me. I don't think I quoted Dennis Hopper from
Blue Velvet
("Heineken? Fuck that shit! PABST BLUE RIBBON!!!"), but I sort of wish I had. I remember some creepy dude hitting on Kate that I helped scare away (of which I was inordinately proud). And then at some point we left. (I assume.)
KATE'S APARTMENT [no review, due to brain malfunction]
I have only fleeting impressions of this point of the night. It must've been after 2 AM. I remember there were stairs up to her place. I don't know why we went up there. I think it was to look up something on the internet we'd been wondering about (Matt's internet still being inoperable), but I don't know that we ever did that. (I
do
recall uttering my battlecry, "To the internet!" at some point during the evening; I think it was when Kate asked me what Robert De Niro's name was in
Brazil
. For the record:
Harry Tuttle
.) Also, I know we got to listen to some of her records -- actual record albums, on vinyl, which I dig. I think we had gotten in a discussion about record albums earlier, and I think I mentioned that I had a record player in the trunk of my car (yes, really; it's still in there from when I had to move some stuff when my apartment was being redecorated, then never bothered moving back). She had a lot of great albums, most of which escape my memory; I do recall the fact that she had Neil Young's first album on record won my eternal affection. I remember a nice living room, with a fireplace, and comfortable couches, dimly, weirdly, redly lit; I remember a housecat that I petted while I tried to force myself to sober up a bit. I
don't
remember where Kate's roommates were, or if we woke them up. And I remember Matt eventually deciding he had to get my drunk ass back to his place to crash, for which I am grateful.
THE EVENTUAL HANGOVER
Not great, but not that bad. I've had worse.
---
I'm mostly writing these entries for my sake, rather than yours, I admit it, but throw me a bone and say
something
in the comments, would you? I should finish my S.F. recapping soon (though probably not this weekend, because my friend Forrest is flying into town tomorrow), and then I'll get back to ripping on
Lost
and Carlos Mencia and making long, intricate lists, I swear.