MUSIC: Tom Petty
My blogging has become a weekly occurrence, it appears! The sidebar languishes un-updated; so many TV shows and movies remain unmocked. So sad. And the likelihood of more entries in the immediate future is slim at best; tomorrow is my birthday, and much rejoicing shall take place. Followed by much recovering.
So! Just a quick post to point you in the direction of Noel Murray's latest "Inventory" piece at the Onion's AV Club,
14 Classic Tom Petty Opening Lines
.
Petty is one of my favorite artists (though I would agree with a point Noel makes in
his review
of Petty's latest release, that Petty makes lots of great singles, but doesn't often make great albums). And I loved this "14 Lines" feature. Petty's a terrific songwriter, and these are some truly noteworthy beginnings. Such as this, from "Breakdown": "It's all right if you love me, it's all right if you don't" -- there's something tremendously evocative and compelling about that, especially in the languorous way Petty sings it.
Does
he care, or not? Is he expressing resignation to his lot in life, or is it a warning to the woman he's singing it to, that he's incapable of feeling?
Anyhoo. I notice one of Petty's albums not represented in this feature is one of my favorites, perhaps my second favorite by Tom Petty (
Full Moon Fever
would be first, of course): the 1996 soundtrack to the Edward Burns film
She's the One
.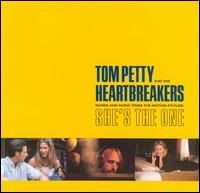 It's a wonderful album, and one I think has been unjustly forgotten by fans of Petty -- or just fans of good music, really. It's a great soundtrack coupled with a mediocre film. The opening track and the album's first (only?) single, "Walls (Circus)" (repeated later on the album in a stripped-down version, sans Lindsey Buckingham's backing vocals, as "Walls (No. 3)"), is a stirring opener, upbeat but with Petty's typically conflicted personality imprinted on it. Its opening line could've made the list, so compact is it in its optimism/pessimism: "Some days are diamonds/Some days are rocks." His cover of Beck's song, "Asshole," is another album highlight ("She'll do anything/She'll do anything/She'll do anything to make you feel like an asshole"). "Angel Dream (No. 4)" is one of the most beautiful songs Petty's ever written, light and lovely and heartbreaking (opening line: "I dreamed you/I saw your face").
But the song I really would've liked to have seen on this list is "Hope You Never," which right with the first line sets itself up as somewhere between an earnest protective wish, like, say, Cat Stevens' "Wild World," and a blistering kiss-off:
"I hope you never fall in love/Hope you never get your heart broken/I hope you never fall in love with/Somebody like you."
The mood and direction of the song change with every few words. What kind of a cruelty is it to wish someone never falls in love? Then: oh, it's not cruel, it's caring, if maybe a little overprotective, maybe a daddy praying his daughter doesn't get hurt. Then, that last kick: "Somebody like you." And you can taste the bitterness, you understand that this is sung by a man who's been crushed by a woman -- he hates her, but he probably still can't help but love her a little bit, too.
Love that line, love that song, love that album.